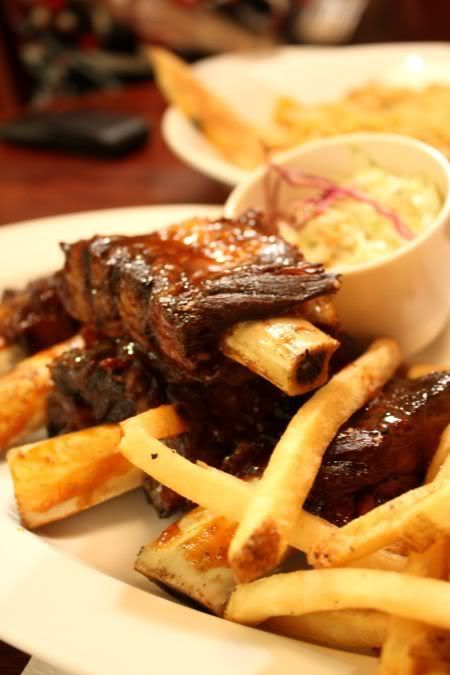 Image from
http://masak-masak.blogspot.com/
There are plenty of western restaurants in Klang Valley. Whatever u crave for - italian, spanish, tex-mex, hungarian, argentinean steak, pasta, pizza etc.
Generally western restaurants serve more expensive food compared to restaurants serving local food (malay/chinese/indian), however nowadays it is quite common for mamak or hawker stalls to serve western dishes like steak, chicken chop, pasta etc.
For us Muslims in KL/M'sia, we are so lucky because we are able to sample food from around the world without worry because most restaurants are halal or pork free.Ha ha n we can only sample food from different countries here, because if we were to visit foreign countries most of the time we are not able to do so because of diet restriction.
When I toured the states years ago, I was so tempted to tried their ribs n even McD n Burger King but....because of my diet restriction I can only eat bread, egg, fries, salad n more veges!! ...and when I was backpacking across Europe during my student days I had to lug with me instant noodles, dried rendang (meat floss), boiled eggs n cans of sardines n of course we would buy bread wherever we were. So we had Austrian bread, Belgian waffle, French croissant, German bread, Czech bread, Norwegian bread, Swedish bread, Danish bread, bread, bread n more bread...I was sick of bread by the end of the almost 4 weeks trip.
So, those of you who plan to stay in non-muslim countries for couple of years because of studying or working, stuff yourself silly before flying there....:-)
**Some of the restaurants below are pork-free i.e. not certified halal by JAKIM because they serve alcohol at their premises or they did not apply for halal certification from JAKIM. Check before ordering food to satisfy yourself that meat served was procured from halal certified supplier.
1. GAUCHO GRILL Chulan Square
http://kyspeaks.com/2008/04/28/ky-eats-argentinian-steak-at-gaucho-grill-chulan-square
http://www.nst.com.my/Current_News/Goodbites/gbites/Articles/20080906144508/Article/index_html
http://thestar.com.my/lifestyle/story.asp?file=/2007/8/11/lifeliving/18382815&sec=lifeliving
2. Maredo's Steakhouse Crown Regency Jln P.Ramli
http://blog.benghan.com/2007/06/maredos-steakhouse-jln-pramlee
http://www.seduniatravel.com/cms/RunScript.asp?Page=479&form=Form&a=a&p=ASP\Pg479.asp
3. Izzi Bukit Bintang
http://www.3-meals.com/?p=42
http://izzipizza.com/my/index.php?modul=onblog&start=0
4. Jake's Bkt Bintang
http://1001resepi.com/?p=438
http://thestar.com.my/metro/story.asp?file=/2008/7/5/central/21716514&sec=central
http://www.jakes.com.my/main_course.htm
5. Charcoal Grill Angus House Pavilion
http://www.foodlah.com/2008/04/28/steaks-angus-steak-house-pavilion-kuala-lumpur
http://ahmok.com/?p=302
http://www.timeoutkl.com/food/reviews/Angus-Steak-House
6. Tony Roma's
http://guilostories.com/?p=1068
http://www.sun2surf.com/article.cfm?id=25378
7. Chinoz on the Park KLCC
http://food.malaysiamostwanted.com/venues/chinoz-lobster-soup-lamb-chop-sushi-pizza-klcc
http://wp.peachjon.com/edition_2004_06/2006/09/set-dinner-at-chinoz-on-park.html
http://www.kukujiao.com/2007/01/01/chinoz-on-the-park
http://www.rasarasa.net/articlePrint.cfm?id=1574
8. San Francisco Steak House
http://www.vkeong.com/2008/09/15/san-francisco-steakhouse-klcc
http://fastcoolserver.com/tim/?p=914
http://vortrack.net/tag/t-bone-steak
http://forum.fooxion.com/index.php?showtopic=1526
9. TGI Friday
http://food.malaysiamostwanted.com/venues/tgi-friday-western-food-the-curve
http://blog.benghan.com/2008/08/tgi-friday-1-utama
http://www.vkeong.com/2007/11/19/tgi-fridays-3-course-meal-for-rm3990
http://www.fridays.com.my/html/menu-mains.html
10. Modesto's
http://www.faces.com.my/tastebuds/tastebuds.asp?id=477
http://www.modestos.com.my/aboutus.html
11. Victoria Station
http://food.malaysiamostwanted.com/venues/victoria-station-usj-selangor
http://www.victoriastation.com.my/html/station.htm
12. Roadhouse Grille Jln Ampang
http://food.malaysiamostwanted.com/venues/roadhouse-grill-jalan-ampang
http://www.elaneman.com/post/1/1174237327/roadhouse_grill_at_jalan_ampang.html
http://ahmok.com/?p=376
http://guilostories.com/?p=914
13. La Risata Ampang
http://food.malaysiamostwanted.com/venues/larisata-italian-ampang
14. Chilli'
http://food.malaysiamostwanted.com/venues/grill-chilis-n-bar-suria-klcc
http://www.vkeong.com/2006/12/23/chilis-midvalley
http://blog.benghan.com/2008/02/dinner-chilis
15. The Ship
http://food.malaysiamostwanted.com/venues/the-ship-pertama-complex
http://www.theship.com.my/airflown.htm
16. Coliseum Jln TAR
http://www.ourlilspace.com/?p=431
http://www.foodlah.com/2007/08/24/coliseum-cafe
http://myblog.andresloft.com/index.php/2005/02/23/coliseum-cafe-hotel
17. Din Chop n Steak Kg Baru
http://www.friedchillies.com/index.php/fctv/detail/din_chop_steak
http://dheartyizan.org/blog/?p=705
18. Prime Le Meridien
http://www.shutterasia.com/forum/archive/index.php/t-2507.html
http://www.minishorts.net/2008/07/24/a-prime-falling-episode
http://www.foodlah.com/2008/03/10/prime-le-meridien
19. Cava Bangsar
http://food.malaysiamostwanted.com/venues/cava-baguette-spaghetti-marinara-virgin-mojito-jalan-bakong-bangsar
http://www.cava.com.my/index.html
20. Il Divo Ristorante Italiano Desa Sri Hartamas
http://www.sooyin.com/2007/04/09/food-review-il-divo-part-2-with-piccies-this-time
http://food.malaysiamostwanted.com/venues/il-divo-italian-restaurant-desa-sri-hartamas
http://thestar.com.my/news/story.asp?file=/2007/5/12/central/17530528&sec=central
21. Fasta Pasta Ikano
http://food.malaysiamostwanted.com/venues/fasta-pasta-restaurant-ikano-power-center-mutiara-damansara
http://www.shaolintiger.com/2008/03/10/we-ate-this-updated-fasta-pasta-ikano
http://www.elaneman.com/post/1/1172543401/fasta_pasta_ikano_.html
22. Jack's Place 1 Utama
http://kyspeaks.com/tag/1-utama
http://wp.peachjon.com/edition_2004_06/2005/12/jacks-place-one-utama-new-wing.html
http://www.lrserver.com/ckt/content/view/225/48
23. Pasta Fredo Italian Restaurant TTDI
http://food.malaysiamostwanted.com/venues/pasta-fredo-italian-restaurant-italian-taman-tun-dr-ismail-kl
http://www.lrserver.com/ckt/content/view/199/48
24. Cowboy Station Kelana Jaya
http://allmalaysia.info/news/story.asp?file=/2006/1/21/eatingout/13128270&sec=Eating%20Out
25. William's Kelana Jaya
http://food.malaysiamostwanted.com/venues/williams-italian-mamak-food-old-lim-kok-wing
26. Pasta de Gohan Sunway Pyramid
http://food.malaysiamostwanted.com/venues/pasta-de-gohan-japanese-sunway-pyramid-bandar-sunway-pj
http://www.foodlah.com/2008/05/13/japanese-pasta-pasta-de-gohan-sunway-pyramid-petaling-jaya
http://www.klue.com.my/articles/734-Pasta-de-Gohan
http://www.nst.com.my/Current_News/NST/Saturday/Features/20081010175037/Article/indexF_html
27. Salmon Steak Café SS15
http://food.malaysiamostwanted.com/venues/salsom-steak-cafe-ss15-subang-jaya
http://www.lessthanten.net/2007/07/18/38
28. D'fortune USJ10
http://gblog.gpros.net/?p=292
http://food.malaysiamostwanted.com/venues/d-fortune-western-bandar-manjalara-kepong-kl
http://danielctw.com/2007/08/29/eat-at-dfortune
http://dfortune.com.my/menu
29. Las Carretas USJ10
http://kyspeaks.com/2006/03/13/ky-eats-mexican-restaurant-at-usj-taipan-las-carretas
http://www.saigoheiki.com/blog/las-carretas
– quite lengthy but funny entry, read on
http://food.malaysiamostwanted.com/venues/las-carretas-restaurant-and-bar-jalan-semantan-damansara-heights
http://www.lascarretas.com/mnu-main-courses.html
30. Pizza Uno USJ10
http://food.malaysiamostwanted.com/venues/pizza-uno-taipan-triangle-subang-jaya
31. Milwaukee Steak Corner
http://jasonmumbles.com/2006/02/bloggers-gathering-kepong-2
http://food.malaysiamostwanted.com/venues/milwaukee-steak-corner-steak-balakong
http://www.milwaukee.com.my/location.htm
32. Kafe Borak Borak Wangsa Melawati
http://www.mymesra.com.my/index.php?ch=blog&pg=blog_main&ac=5282&blogid=makanjoy
33. Friske Steakhouse
http://mymesra.net.my/forum/index.php?topic=66.0
34. Secret Recipe
http://jasonmumbles.com/2007/12/just-another-dinner-at-secret-recipe
35. Various
http://www.foodvenue.com/forum/topic.asp?TOPIC_ID=22
36. Various -
http://www.friedchillies.com/index.php/site/category/steak-restaurants-steak-houses/
37. Various
http://www.friedchillies.com/fc/forum/threads.php?id=14_0_4_0_C
38. Various
http://cheeserland.com/2006/07/lets-speak-in-the-pasta-linguini
39. More at
http://food.malaysiamostwanted.com/show/search?q=western