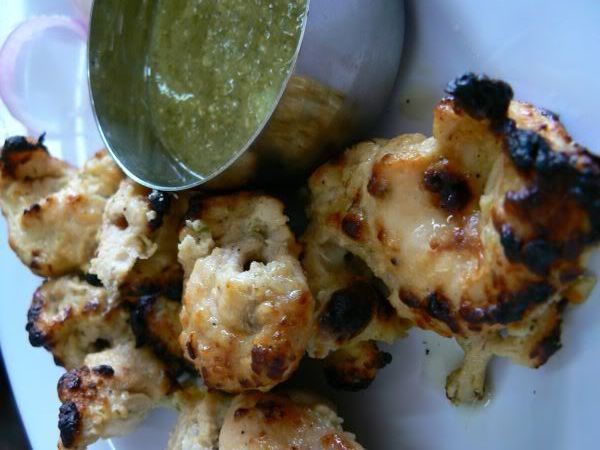 Image from
http://masak-masak.blogspot.com/2007/04/indian-food-restoran-bsentral.html
I've yet to hear indian restaurants serving pork in M'sia. So I supposed all indian restaurants are pork free. However, not all indian restaurants owners are muslim, so for me if I were to eat at pork free restaurants (those without Jakim cert or halal cert from meat supplier) I'll stick to non meat dishes.
List of indian or mamak or moghul restaurants in KL/S'ngor are endless. I like Kanna in PJ (heard abt it on radio n told my bf abt it, one of our most frequented joints), we frequented Pelita in Jln Ampang often too - food not too bad and the location is very convenient for us hence the frequency of visits. Ohh I like Devi's Corner too in Bangsar n an indian restaurant next to Madam Kwan Bangsar - just couldn't recall the name.
As for Moghul food, Nawab at Chulan Square not bad at all
http://www.oomph.com.my/index.php?option=com_content&task=view&id=517&Itemid=35
There's another moghul restaurant in Desa Sri Hartamas, very nice n cheaper than Nawab (typical mamak joint but serving moghul food) - ha ha again just couldn't recall the name. But my bf knows where's the place, will make an effort to jot down the name next time we are there.
There are 2 places that I like but I just couldn't recall the name nor the exact locations - fish head curry in Sentul (my sub-contractor brought me there loong time ago) n a banana leaves restaurant somewhere in PJ - this restaurant displays/hangs quotes from various political leaders like TDM, Samy Vellu, Gandhi n few others.
Ha ha from this post u'll notice I'm quite hopeless with names...I guess my bf always know where to go for good food n I rely heavily on him to get us there. I should make extra effort to jot down or at least remember the restaurants names so I can share with my friends.
Here are amongst many restaurants in town as recommended by floggers:
**Some of the restaurants below are pork-free i.e. not certified halal by JAKIM because they serve alcohol at their premises or they did not apply for halal certification from JAKIM. Check before ordering food to satisfy yourself that meat served was procured from halal certified supplier.
1. Madurai Sri Meenakshi Mess Lebuh Ampang
http://masak-masak.blogspot.com/2008/05/budget-indian-food-madurai-sri.html
http://www.klue.com.my/articles/152-Madurai-Sri-Meenakshi-Mess

2. Santa Capati House Jln tun HS Lee
http://wp.peachjon.com/edition_2004_06/2006/07/santa-chapati-house.html
http://masak-masak.blogspot.com/2007/06/chapati-and-roti-canai-santa-chapati.html

3. Tiger Jit Singh Chapati Jln San Peng
http://masak-masak.blogspot.com/2007/03/chapati-tiger-jit-singh-jalan-san-peng.html
http://cumidanciki.blogspot.com/2008_04_01_archive.html

4. Gem KL Sentral
http://www.rasarasa.net/section.cfm?id=35
http://food.malaysiamostwanted.com/venues/gem-kl-central

5. Mathai's Brickfield
http://masak-masak.blogspot.com/2007/02/banana-leaf-rice-mathais-new-lay-sin.html

6. Gopala Brickfield
http://kyspeaks.com/2007/09/06/ky-eats-gopala-indian-vegetarian-food-at-brickfield/
http://masak-masak.blogspot.com/2007/08/indian-vegetarian-food-gopala.html

7. Hare Krsna Vegetarian Brickfield
http://masak-masak.blogspot.com/2006/12/indian-vegetarian-hare-krsna_08.html

8. Indian sweetmeats
http://masak-masak.blogspot.com/2007/11/happy-deepavali-sweets-mithai-galore.html

9. Vishal's, Brickfields
http://masak-masak.blogspot.com/2007/09/banana-leaf-rice-vishals-brickfields.html

10. Restoran B'Sentral Brickfield
http://masak-masak.blogspot.com/2007/04/indian-food-restoran-bsentral.html
http://food.malaysiamostwanted.com/venues/b-sentral-jalan-tun-sambanthan-kl

11. Spice Garden Bangsar
http://kyspeaks.com/2006/07/27/ky-eats-spice-garden-at-bangsar-cheap-northern-indian-food/

12. Sagar Bangsar
http://kyspeaks.com/2006/11/01/sagar-at-bangsar-one/

13. Kanna Curry House PJ
http://kampungboycitygal.com/?p=333
http://kyspeaks.com/2007/12/04/ky-eats-banana-leaf-rice-at-kanna-curry-house-pj-seksyen-17/
http://www.backstreetgluttons.com/2006/12/banana-leaf-rice-indian-rice-klpj.html

14. Raju Jln Gasing PJ
http://masak-masak.blogspot.com/2007/03/breakfast-rajus-petaling-jaya.html

15. Manja Curry House PJ
http://masak-masak.blogspot.com/2008/05/roti-tisu-special-manja-curry-house-old.html

16. Lotus PJ
http://food.malaysiamostwanted.com/venues/lotus-banana-leaf-rice-jalan-gasing-pj

17. Chola Spice Garden Bdr Sunway
http://kyspeaks.com/2008/04/02/ky-eats-chola-spice-garden-at-sunway/

18. More at http://food.malaysiamostwanted.com/show/search?q=indian and here http://food.malaysiamostwanted.com/show/search?q=nasi+kandar