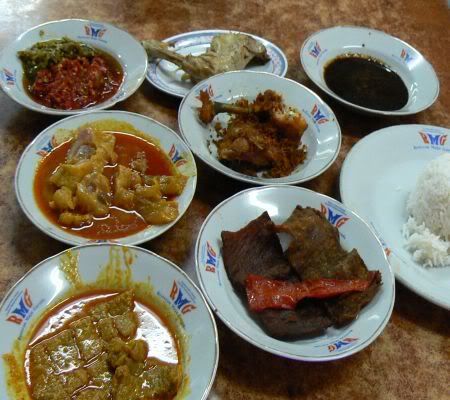 Image from
http://masak-masak.blogspot.com/2006/12/nasi-padang-maju-garuda-kampung-baru.html
Looong time ago when I was studying in secondary school (boarding school) in Kulim Kedah, my friends and I always frequented a nasi padang stall (shared with a chinese coffee shop) in town during our weekend outing (every forthnightly we were allowed to leave the school). To us (n probably 3/4 of the school) it was the best food ever! I heard from my seniors who now reside in Kulim that the stall is still there but 'nothing great la', I guess we've all grown up n tasted better things .........
I've been to Indonesia few times - Jakarta, Yogya, Solo, Bali but don't really like their food. Tried bakso, nasi uduk, soto - once is enough really... don't like it. Other food - sweetish...
But I like nasi padang, again looong time ago when I first started working in Taipan USJ, there was this great nasi padang restaurant, food was great but really expensive; double the price of our usual nasi campur lunch (economy rice). They had a log book showing famous visitors - celebrities, politicians..sadly they couldn't survive (I guess it was just way too expensive for quick lunch for most people) n they closed shop after few months.
After that I was happy when Sari Ratu opened its first branch in Jln Sultan Ismail. A place to satisfy my craving for good nasi padang.
Weird...I still prefer Sari Ratu KL compared to nasi padang I sampled in Magelang when we visited Borobudur (supposedly good n it was not one of those outlets from chain restaurants; our donkey cart driver took us there...my friend kept on telling him 'take us to the best nasi padang in town'..ha ha we were expecting a big restaurant instead...one little shop...really little. We were disappointed but.....it was clean n why not try food recommended by the local?)
In KL, you may want to try these restaurants as recommended by floggers (foodie bloggers):
1. Indonesian stalls – Kg Baru
http://www.friedchillies.com/index.php/site/detail/warung_garuda/
http://eatingasia.typepad.com/eatingasia/2006/08/the_sumsums.html
http://food.malaysiamostwanted.com/venues/bubur-sumsum-jalan-raja-alang
2. Restaurant T.A.R Chow Kit
http://masak-masak.blogspot.com/2007/03/bakso-and-satay-restaurant-tar-kuala.html
3. Bangsawan Pavilion
http://masak-masak.blogspot.com/2008/08/tiny-indonesian-treats-bangsawan.html
4. Pondok Gurame Restaurant Jln P.Ramli
http://www.mymesra.com.my/index.php?ch=lpg&pg=lpg_makan_places&ac=45
5. House of Sundanese KLCC
http://food.malaysiamostwanted.com/venues/house-of-sundanese-food-suria-klcc
6. Cato's Rijsffafel G/F Wisma Chinese Chambers– This is a unique Batavian restaurant, with a blend of Indonesian and Dutch cuisine from colonial days gone by. The romantic environment of the restaurant is ideal for couples to dine on fusion dishes with candle lighting.
7. Restoran Puti Bungsu Batam Jln Yap Kwan Seng
http://www.klue.com.my/venues/178-Restoran-Puti-Bungsu-Batam
8. Sari Ratu Desa Pandan
http://masak-masak.blogspot.com/2006/07/nasi-padang-restoran-sari-ratu-desa.html
9. Sari Bunda Desa Pandan
http://www.klue.com.my/venues/583-Sari-Bunda
10. Ayam Bakar Wong Solo Ampang
http://www.klue.com.my/articles/464-Ayam-Bakar-Wong-Solo
http://www.chicsinred.com/blog/2008/09/22/ayam-bakar-wong-solo-taman-dagang
11. Waroeng Penyet The Curve
http://food.malaysiamostwanted.com/venues/waroeng-penyet-the-curve-shopping-centre-mutiara-damansara-pj
http://www.cintarasa.com/cintarasa/2008/01/23/waroeng-penyet-the-curve-mutiara-damansara/
http://kyspeaks.com/2008/03/13/ky-eats-indonesian-food-at-waroeng-penyet-at-the-curve/
http://www.vkeong.com/2008/06/16/waroeng-penyet-tradisional-indonesian-food-the-curve-mutiara-damansara/
12. Minang Salero Sentul
http://eatingasia.typepad.com/eatingasia/2006/05/research.html
13. Salero Negori Amcorp Mall
http://masak-masak.blogspot.com/2006/06/salero-negori-amcorp-mall-ss5-petaling.html
14. Batavia Indonesian Restaurant Sunway
http://food.malaysiamostwanted.com/venues/batavia-indosesian-restaurant-indonesian-sunway
15. Ayam Penyet Ria Sunway
http://masak-masak.blogspot.com/2007/06/ayam-penyet-ria-sunway-mentari-petaling.html